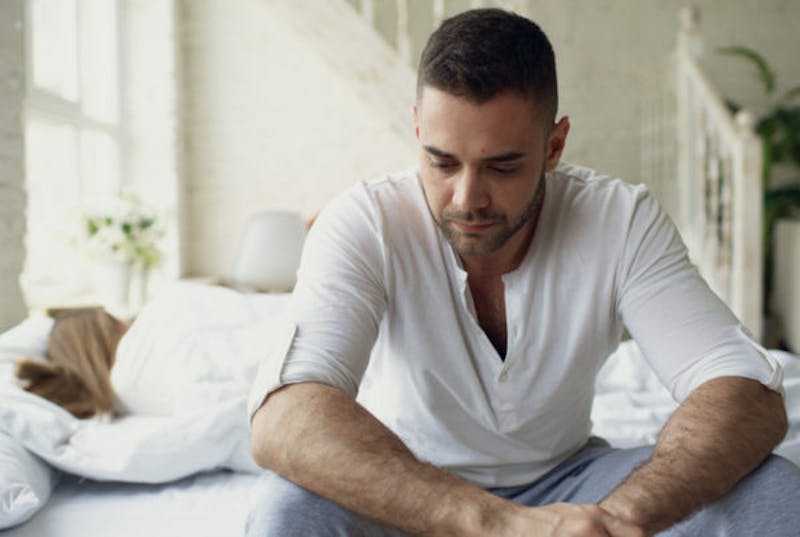 There are a lot of myths out there about pelvic pain, but one of the most common misconceptions is that it only affects women. While women are the predominant victims of pelvic pain, men can most certainly suffer from pelvic pain, too. Unsurprisingly, pelvic pain in men looks a lot different than it does in women, but there's one important thing that all cases of pelvic pain have in common: it is 100% treatable.
Unfortunately, pelvic pain in men is extremely misunderstood. It often goes undiagnosed and men with pelvic pain may suffer for years without relief. If you're a man with pelvic pain and you're not sure where to turn, New York's pelvic pain specialist, Dr. Sonia Bahlani, can help. Here, Pelvic Pain Doc breaks down the symptoms, causes and treatment options for male pelvic pain.
What is Male Pelvic Pain?
In order to find relief from male pelvic pain, it's important to first understand what it is. Pelvic pain refers to any pain originating from the area below the belly button and above the thighs. In men, pelvic pain is often called prostatitis, since the prostate is the only male-specific cause of pelvic pain. Prostatitis refers to the swelling and inflammation of the prostate gland, which produces fluid and assists in the ejaculation process. It is often caused by a bacterial infection, but not always. Prostatitis can affect men of all ages but is more common in men under 50.
Prostatitis isn't the only cause of pelvic pain in men, though. Conditions like urinary tract infections, sexually transmitted infections, hernia and gastro-intestinal issues may also be at play. The symptoms of male pelvic pain vary in both type and severity, depending on the underlying cause.
Symptoms of Pelvic Pain in Men
In almost all cases of male pelvic pain, you will experience symptoms in some form. Symptoms may stay the same or fluctuate over time. Men with pelvic pain may have any of the following:
Pain or burning during urination
Hesitancy, urgency or frequency of urination
Pain in the abdomen, groin or lower back
Pain in the area between the scrotum and rectum (perineum)
Pain or discomfort in the penis or testicles
Painful ejaculations
If you're experiencing any of the above symptoms of male pelvic pain, see a pelvic pain specialist as soon as possible.
Common Causes of Male Pelvic Pain
As we've mentioned, most cases of pelvic pain in men are caused by prostatitis, the inflammation of the prostate gland. Most of the time, prostatitis is the result of an acute bacterial infection. If the infection doesn't clear after treatment with antibiotics, prostatitis can become recurrent, which is known as chronic bacterial prostatitis.
It is also possible to have prostatitis without the presence of an infection, often as a result of nerve damage in the lower urinary tract from surgery or trauma. Similar to vulvodynia in women, this type of male pelvic pain often has no visible cause. This can be frustrating for patients to endure, and more difficult for pelvic pain doctors to diagnose and treat.
Other potential causes of pelvic pain in men include irritable bowel syndrome, urinary dysfunction, STIs, neuromuscular disorders, or psychological triggers, such as trauma or stress. If you're experiencing any symptoms of pelvic pain, it's important to talk to a doctor to get to the root cause and find a treatment plan that's right for you.
Treatment for Pelvic Pain in Men
Living with pelvic pain can be an extremely uncomfortable and stressful experience. At Pelvic Pain Doc, we believe relief is possible for everyone — men and women alike. Through a combination of therapies, we're confident we can help you get back to living your life, free from pain or discomfort.
Fortunately, most cases of bacterial prostatitis can be treated with antibiotics, as can sexually transmitted infections. Acute bacterial infections typically clear after a single course of antibiotics. Your doctor will choose an appropriate antibiotic based on the type of bacteria causing your infection. However, certain infections can be more difficult to treat. In cases of chronic bacterial prostatitis, you may need intravenous (IV) antibiotics. Treatment length will vary depending on the severity of your symptoms.
If you don't have an infection, your male pelvic pain may be caused by tightness in your pelvic floor muscles. Pelvic floor therapy can help to release tension in these muscles and help you find relief, as can certain oral medications and certain suppositories and lifestyle modifications. If you think your pain may be caused by psychological distress, we recommend working with a therapist or psychologist to develop positive coping strategies.
Pain is your body's way of telling you something is wrong. Are you ready to start listening? Book a consultation with Dr. Bahlani today and take the next step towards regaining control over your life.